The 17th Annual Festival of Carols is scheduled for November 18-20
at the Ione Community United Methodist Church
You are cordially invited to the Interfaith Community of Choirs 17th Annual - Festival of Carols -
a benefit concert for the Amador County Interfaith Food Bank.

This year's festival will be Friday, November 18(6PM)
Saturday, November 19 (3PM and 6PM) and
Sunday, November 20 (3PM).
All concerts held at theCathedral of the Mother Lode,
located at 150 West Marlette St, in Ione, Ca. 95640 -
the Ione Community Methodist Church.
All concerts are free. Refreshments served. Children are welcome. A monetary donation will
be taken during the programs.
Special guests this year!
The Sacramento Baroque Soloists
Sunday 11-20 3pm
Sacramento's professional baroque music ensemble is dedicated to creating vibrant, engaging performances of music from the 17th to 19th Centuries. They have developed a local reputation for quality and

compelling programming. The ensemble was formed in 2001 by Amador County's Lisa and Michael Lawson, and has performed yearly subscription series since 2000. Performing works from Uccellini and Gabrielli to Lully, from Vivaldi to Biber and Bach, the SBS perfroms solo sonatas to Concerto Grossi. Guests have included such notable soloists as Judith Linsenberg, Michael Sand, William Skeen, and Paul Flight. Sacramento Baroque Soloists performs a program for school assemblies, "Music Journey," which takes the students through five centuries of music in an interactive performance.


Sage Po - harpist - will accompany ICC Women's Chorale
Saturday 11-19 3pm and 6pm
Sage Po fell in love with the harp at age eight, when she saw celtic harpist Lisa Stine playing at the home of a family friend. She immediately began lessons, starting on a tiny 19-string harp bought on eBay. After three years of folk music study she shifted her focus to the orchestral harp, studying with the principal harpist of the Fresno Philharmonic, Laura Porter.
As her skills grew, Sage began performing in music competitions, playing for weddings, and sharing her instrument with people of all ages. In high school she garnered honors ranging from her hometown's Jeanne Brooke Dunning Award to multiple prizes at the American Harp Society National Competition. The music program at California State Summer School for the Arts awarded her the Herb Alpert Scholarship, which supports arts students who want to pursue their passion in college. In addition, she was invited to perform on From the Top, a National Public Radio show dedicated to showcasing young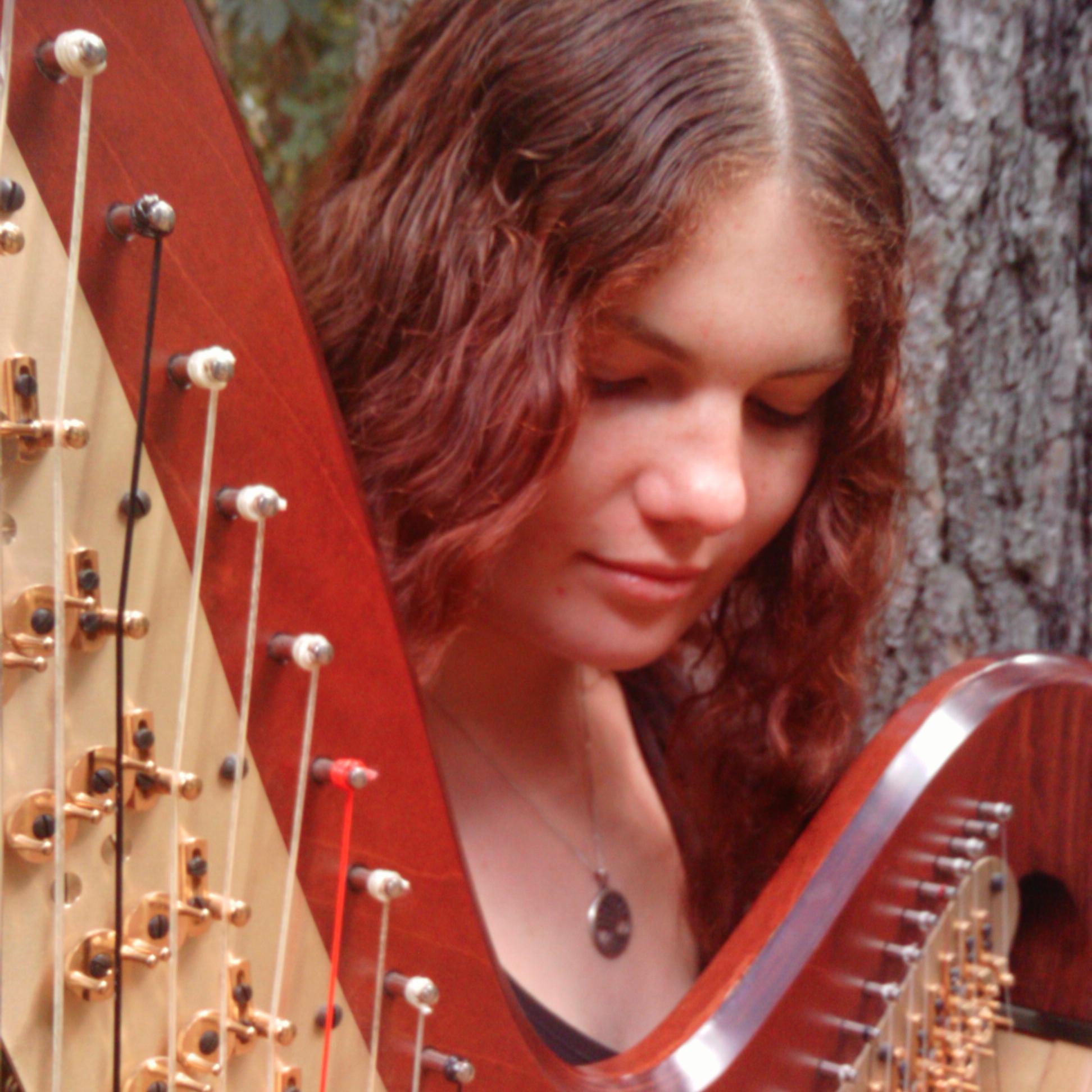 classical musicians, and received their Jack Kent Cooke Young Artist Award.
At fifteen, Sage traveled to France over the summer to study with jazz harpist Magali Zsigmond and classical harpist Ghislaine Petit-Volta. She attended Music Alta Academy in Alsace, where she participated in master classes, took private lessons, and immersed herself in music while absorbing French language and culture. The next year she studied with June Han, of Yale and Julliard, honing her chamber music skills at Bowdoin International Music Festival in Maine. In addition, she took master classes with harp virtuosos Susann MacDonald, Catherine Michel, and Isabelle Moretti.
Sage holds a Bachelor of Fine Arts in Harp Performance and a Certificate in Music Education from Carnegie Mellon University, where she studied with Gretchen Van Hoesen, principal harpist of the Pittsburgh Symphony Orchestra. While in school she played with the Pittsburgh Ballet Orchestra, Johnstown Symphony Orchestra, and Altoona Symphony Orchestra as well as the Carnegie Mellon Philharmonic. The Pittsburgh Concert Society and the Johnstown Chamber Music Festival both featured her in their solo recitals, and she was a winner of the Carnegie Mellon Baroque Concerto Competition.
In 2015, Sage moved back to her home state of California, where she is a concert artist and music educator in the beautiful Sierra Nevada foothills. This summer she performed the Mozart Flute and Harp Concerto with fellow Carnegie Mellon alumna Jessica Yang. Following her passion for teaching, she maintains a private studio and is Assistant Conductor for the Music in the Mountains Youth Orchestra.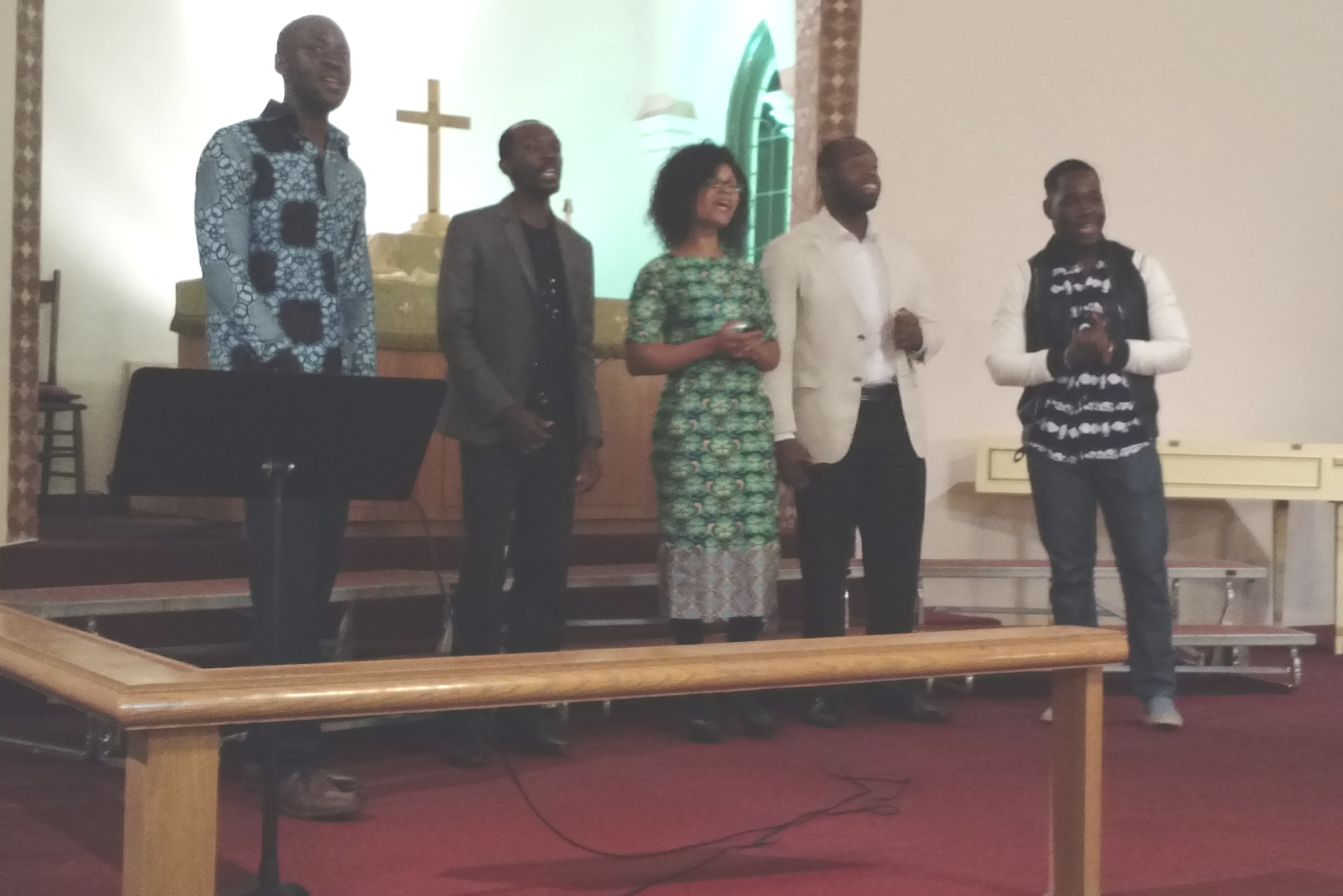 African Style
Superb talent on loan from God! Captivating stories and testimonies of life growing up in war-torn Angola where song kept their faith together and families together.
Friday night 11-18 6pm
All are welcome.
150 West Marlette Street. Ione, Ca. 95640